PETER THABIT JONES was born in Swansea, Wales, in 1951. He is the author of sixteen books. His work, particularly his poetry for children, has been featured in books from publishers such as PENGUIN, PUFFIN BOOKS, LETTS EDUCATIONAL, MACMILLAN EDUCATIONAL, HEINEMANN EDUCATIONAL, OXFORD UNIVERSITY PRESS, SIMON AND SCHUSTER, HODDER AND STOUGHTON, FRANKLYN WATTS, WH SMITH, UNIVERSITY TUTORIAL PRESS, HEINEMANN CENTAUR (South Africa), SCHOLASTIC PUBLICATIONS (Australia), and TITUL PUBLISHERS/ BRITISH COUNCIL MOSCOW (Russia). The latter was a major British Council Moscow Educational Project to teach English to secondary school children throughout Russia.

His poem KILVEY HILL has been incorporated into a permanent stained-glass window in the new Saint Thomas Community School built in Swansea, Wales, which was officially opened in July, 2007. The window is the work of the leading Welsh artist CATRIN JONES.





His poetry has also been featured on British television (HTV WALES), American television, American radio, Romanian television, Serbian television, BBC Radio 3 and 4, Radio Cymru, and BBC Educational Cassettes, SCHOLASTIC PUBLICATIONS Educational Cassettes, and a MACMILLAN EDUCATIONAL CD.

Several of his poems were also featured on the Stone Lantern Poetry Cassette POETS WORKING IN WALES and the cassette 90/90 from New Hope International Press. His work has been published in many magazines and newspapers, including POETRY REVIEW (UK), CHILD EDUCATION (UK/Commonwealth), NEW ENGLAND REVIEW (USA), QUADRANT (Australia), PARNASSUS (India), CONVORBIRI LITERARE (Romania), 2PLUS2 (Switzerland), JUNIOR EDUCATION (UK/Commonwealth), CUMBERLAND POETRY REVIEW (USA), NINNAU (USA), POETRY WALES (U.K.), THE POET'S VOICE (Salzburg), RENESANS (Iran), TVORBA (Slovakia), SOUTH CAROLINA REVIEW (USA), PATERSON LITERARY REVIEW (USA), LIPS (USA), KOREAN EXPATRIATE LITERATURE (USA), and many more.

He is included in THE NEW COMPANION TO THE LITERATURE OF WALES, the Literature chapters of two history books on Swansea, a book on Dylan Thomas' Swansea, and numerous Who's Who of Poetry books. He is the recipient of several awards for his work, including the ERIC GREGORY AWARD FOR POETRY (The Society of Authors, London), THE SOCIETY OF AUTHORS AWARD (London), THE ROYAL LITERARY FUND AWARD (London), and an ARTS COUNCIL OF WALES AWARD (Wales). He has been a prize-winner in several UK and international poetry competitions.


His articles, such as THE COLOUR OF SAYING, about tutoring poetry at the Dylan Thomas Birthplace, published by QUADRANT (Australia), have been published worldwide. Alan Llwyd, who scripted the Oscar-nominated Welsh-language film HEDD WYN, once said of him that "he is a master of the exact word".

He tutored Literature and Creative Writing at Swansea University's Adult Education Department for twenty-two years, retiring in 2014. He is on the U.K. Author List of Heinemann Educational (Teaching Resources).


He has performed and given writing workshops at many festivals, including the UK YEAR OF LITERATURE 1995, which involved a poetry workshop attended by Prince Charles, SWANSEA/CORK WRITERS' EXCHANGE, LEICESTER POETRY FESTIVAL, URBANE GORILLA/SHEFFIELD CRUCIBLE THEATRE POETRY FESTIVAL (headlining with Roger McGough), the WELSH ACADEMI SPRING TOUR OF WALES FESTIVAL, LAUGHARNE ARTS FESTIVAL, SWANSEA FRINGE FESTIVAL, DYLAN THOMAS FESTIVAL, SWANSEA FESTIVAL OF MUSIC AND THE ARTS, EDINBURGH FRINGE FESTIVAL, the 43RD and 44th INTERNATIONAL MEETING OF WRITERS IN BELGRADE, SERBIA, and festivals in Romania and throughout America, such as the MASSACHUSETTS POETRY FESTIVAL.

In November 1997, he visited America for ten days to give readings to organisations and schools in New York and New Jersey. One of his readings was with New York's Raymond R. Patterson, a Blues poet and a lecturer on the Blues form at New York University. He was commissioned by the WESTERN MAIL, the national newspaper of Wales, to write pieces entitled POSTCARD FROM NEW YORK. They covered his schedule and his stay at the Chelsea Hotel, where Dylan Thomas stayed prior to his death, and an interview with David Slivka, the sculptor who made the death mask of his friend Dylan Thomas.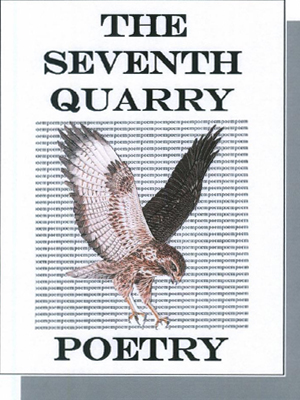 He is the Founder and Editor of THE SEVENTH QUARRY, a poetry magazine published in Swansea, Wales, with an international perspective. New York's Vince Clemente is QUARRY Consulting Editor, America. It was awarded SECOND BEST SMALL PRESS MAGAZINE AWARD 2006 by the Annual PURPLE PATCH UK Awards. Copies have been digitised by the prestigious THE POETRY LIBRARY, London, for its website , which is the most popular poetry website in the UK. He organises THE SEVENTH QUARRY POETRY EVENTS, which have taken place at the Dylan Thomas Centre, Swansea, and The Boathouse in Laugharne; and the first solo participant of the Series was America's Stanley H. Barkan. He runs THE SEVENTH QUARRY PRESS, which publishes books of poetry, prose, art, children's fiction, drama, and literary interest by international writers and artists.


His long correspondence with Vince Clemente, American poet, biographer, and Emeritus Professor of English New York University, is deposited, along with their poem manuscripts and their books, in THE VINCE CLEMENTE PAPERS Archive in Rochester University, New York.

A collection of his poems, THE LIZARD CATCHERS, was published by Stanley H. Barkan's New York-based/ international publisher CROSS-CULTURAL COMMUNICATIONS in 2006. It was nominated for the long list for the 2007 WELSH BOOK OF THE YEAR. A third edition was published in 2008. He is the editor of CROSS-CULTURAL COMMUNICATIONS Welsh Poets Series and its representative in the UK.


His poem I WANT TO BE AN ASTRONAUT was used in the U.K. Government's English Curriculum for all SECONDARY SCHOOL ANNUAL EXAMINATIONS 2006. His poem, LAVACOURT, WINTER:1881, about the painter Monet, is used on a Poetry and Art course at North Michigan University, U.S.A.

His poems LIVERPOOL QUARTET, a poem about The Beatles, and ELVIS have been adapted into songs by singer/songwriter Terry Clarke, whose many albums include NIGHT RIDE TO BIRMINGHAM and MOTHER INDIGO. Three of his poems were part of SOME FAITH, a song cycle performance for classical guitar, piano, and voice by classical composer Christopher Weeks. Some of his poems were broadcast on the Welsh Arts Council's DIAL-A-POEM SERVICE. His poem HARP, inspired by Royal harpist JEMIMA PHILLIPS' performance (with Aeronwy Thomas, poet and daughter of Dylan Thomas) at the 2005 Laugharne Arts Festival, has been included on Jemima Phillips' website.

His poem BEREAVEMENT (from a sequence about his second son, Mathew), from his American book THE LIZARD CATCHERS, was one of the poems broadcast on September 11th, 2007, on New York's Long Island The North Sea Poetry Scene's Art Forum television programme on Cablevision Public Access Channel 20. The programme was co-hosted by Tammy Nuzzo-Morgan and Barbara Reiher-Meyers.

He was invited to Serbia, in September 2006 and September 2007, by the Serbian Writers' Association, to participate in the 43RD and 44th INTERNATIONAL MEETING OF WRITERS in Belgrade.

His poems have been translated into over twenty-two languages, including Russian, Serbian, French, Persian, Hebrew, Turkish, Japanese, Catalan, Tagalog (Philippine language), German, Sicilian, Spanish, Korean, Arabic, Portuguese, Bengali, Dutch, Slovakian, and Romanian.


His poem PEACE was awarded First Prize in the first International Festival of Peace Poetry 2007, organised by academic and leading Persian poet Dr. Rira Abbassi. It was translated into Persian and published for the Festival presentation. He was awarded an engraved statuette by the Festival.


He toured America for six weeks, with Aeronwy Thomas, poet and daughter of Dylan Thomas, in March 2008, to participate in many poetry readings and workshops at universities, poetry centres and other venues from New York to California. The DYLAN THOMAS TRIBUTE TOUR was organised by Stanley H. Barkan, his New York publisher, in conjunction with Vince Clemente. Peter's interview with Aeronwy and her British publisher Martin Holroyd was published in SOUTH CAROLINA REVIEW (USA).


In May 2008 he was commissioned, with Aeronwy, to write the first-ever DYLAN THOMAS WALKING TOUR OF GREENWICH VILLAGE, NEW YORK. The commission came from Catrin Brace of the Welsh Assembly Government in New York. It is now available as a tourist pocket-book, a smartphone app, and a guided tour via New York Fun Tours. The Walking Tour was the launch for the 2014 DT100 (Dylan Thomas Centenary) in America. Peter attended the launch in New York with the First Minister of Wales, the Right Honourable Carwyn Jones, Hannah Ellis, granddaughter of Dylan Thomas, and representatives from DT100, Literature Wales, and The British Council.


He is the featured poet on a DVD produced by Poetry Works, USA, for The Poetry Center, Passaic Community College, New Jersey, America.


He was invited to participate in the 2008 International Festival of Poetry in Satu Mare, Romania. He read his own poetry, which has been translated into Romanian by Dr. Olimpia Iacob, and gave a talk on Dylan Thomas. His talk on Dylan Thomas was published in POESIS, edited by Romanian poet George Vulturescu, who was also the organiser of the Festival.


He returned to Romania in November 2009 as a visiting poet. He attended the launch of the publication of his verse drama, THE BOY AND THE LION'S HEAD, gave poetry readings, and gave talks and workshops at three colleges. He was hosted by Dr. Olimpia Iacob.


He was asked in 2009 to be a participating poet with IMMAGINE & POESIA, the artistic literary movement founded in Torino, Italy, in 2007, in an ongoing Art and Poetry Project. He has since collaborated with Italian artist Lidia Chiarelli, New York artist Adel Gorgy, and Big Sur artist Carolyn Mary Kleefeld. He is now a Honorary Member of the Project and its representative in the U.K.


Peter was invited back to America in April and May 2009. He was the guest of the University of Colorado, in Boulder, Colorado, for a week of events at the World Conference in April. He carried out a series of readings and literary talks in New York, where he was hosted by Professor Sultan Catto of City of University of New York, The Graduate Center, and his American publisher Stanley H. Barkan in May. Whilst in New York, he also participated in a new project with Stanley, the filming of the DVD WALKING WITH DYLAN THOMAS, which is based on the popular DYLAN THOMAS WALKING TOUR OF GREENWICH VILLAGE, NEW YORK, written by Peter and Aeronwy. The DVD features Peter as narrator, poetry readings by a group of Cross-Cultural Comunications poets, including Stanley, and songs about Dylan Thomas by singer-songwriter Terry Clarke.


Peter recorded a brief section of the opening of UNDER MILK WOOD for the SOUTH WALES EVENING POST newspaper's popular website devoted to Dylan Thomas in 2009. Peter was recorded at the historic BBC studios in Swansea, where Dylan Thomas and Welsh actor Richard Burton both made recordings. Peter was also interviewed on video by the POST journalist and Web Editor Paul Turner.


He was the organiser and co-Director of DYLAN THOMAS IN WALES, a 12-week literary seminar offered by Knox College (Illinois, America), in cooperation with the Carl Sandburg Birthplace (America), The Seventh Quarry Swansea Poetry Magazine, Cross-Cultural Communications (New York), and the Welsh Assembly Government in New York. In America, students studied the life and literary works of Dylan Thomas; in Wales, they studied the impact of Wales' natural history and cultural dynamics on Thomas' work. The organiser and Director in America was poet and professor Robin Metz of Knox College. The seminar took place in March 2010.


Peter returned to America in Spring 2010. He was visiting poet at Binghamton University, hosted by Maria Mazziotti Gillan and his New York publisher Stanley H. Barkan; and he gave readings and talks at various venues in New York, including Baruch College. He then travelled to Big Sur, Cailfornia, for a series of readings. He resided there as a writer-in-residence, hosted by poet and artist Carolyn Mary Kleefeld, for the month of May. His recently published verse drama, THE BOY AND THE LION'S HEAD, had its world-premiere in Carmel, California, directed and produced by John Dotson, a poet, dramatist, and biographer. Martin Shears, a Monterey singer-songwriter, was commissioned to write an Overture for the performance of the verse drama.


A new poetry collection, POEMS FROM A CABIN ON BIG SUR, about Peter's time as a writer-in-residence, was published by Cross-Cultural Communications, New York, in May 2011. The poems are accompanied by a selection of photos and an introduction by New York's Vince Clemente, a poet, critic, and Emeritus Professor of Poetry. Peter has since been a writer-in-residence for two months in Big Sur in 2011, 2012, 2013, 2014, 2015, and 2016, where he has also participated in events in Monterey and at the Henry Miller Memorial Library in Big Sur. He has written a drama, THE FIRE IN THE WOOD, based on the reclusive Big Sur sculptor Edmund Kara, who is famous for his sculpture of Elizabeth Taylor in the film THE SANDPIPER, which also featured Richard Burton, and his sculpture The Phoenix installed on the patio of the Nepenthe Restaurant, Big Sur. A book of the drama was published in 2017.


A painting of Peter, by American Native Indian artist David Martine, is displayed in The Poetry Center on Long Island, USA.


Peter has participated in conferences in Colorado, Boston, and Pennsylvania, and Canada. He has organised, with Stanley H. Barkan of Cross-Cultural Communications, New York, an International Poetry Festival (2011) and a Drama Festival (2012) at the Dylan Thomas Theatre in Swansea, Wales.


His poems STONES and BEREAVEMENT were featured in RHYTHMS…Winter to Fall and Other Works, an exhibition by New York's Adel Gorgy at the Bay Area Friends of the Fine Arts Gallery, 47 Gillette Avenue, Sayville, New York, in October 2011.


In April 2014, he was inducted into the Phi Sigma Iota Society at Salem State University, Massachusetts, USA, for his contribution to literature and literary translations. He gave the Guest of Honour speech before his induction.


His SELECTED POEMS (in English and Romanian) was published in Romania in 2016.


Two chapters of a book of literary criticism by Professor Alexandru Zotto, a leading critic, are devoted to Peter's poetry and drama in a book, INTERMINTENTE/CRITICE III/ESEURU DESPRE POEZIE, published by Citadela Publishing, Romania.


He is the recipient of the 2016 Ted Slade Award for Service to Poetry (The Poetry Kit, UK). He was awarded the HOMER - European Medal for Poetry and Art in 2017.


Peter's drama, THE FIRE IN THE WOOD, about the life and works of Californian sculptor Edmund Kara, received its world-premiere at The Actors Studio Theatre in Newburyport, Massachusetts, in May 2017. It was performed over four evenings and directed by Marc Clopton, who described it as 'pure theatrical magic'. Peter Fulton, American poet and dramatist, connected Peter to the theatre. The American cast was Joe Dominquez, Liam Tulley, Allyn Gamble, Charles Bradley, Sherry Bonder, and John Tavano, composer on guitar.
He has been commissioned to write three libretti for chamber operas by Luxembourg-based composer Albena Petrovic-Vratchanska. The first libretto will have its world premiere at the Philarmonie Luxembourg in November 2017.